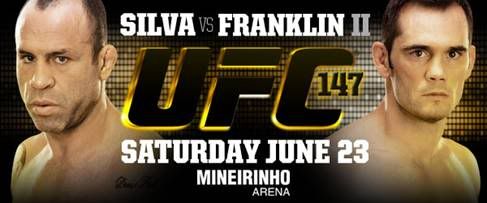 UFC 147: Silva vs. Franklin II - Open Workout Quotes
On Wednesday, June 20, the city of Belo Horizonte officially had its first taste of UFCÒ 147 as fight week kicked off with eight of the main card fighters participating in the Open Workouts. The fighters were cheered on by a crowd of local fans as they took to the mats in the middle of "Praça da Estação" (Station Square).
Main event stars and UFC icons Wanderlei Silva and Rich Franklin were joined by the four The Ultimate Fighter Brasil Finalists – featherweights Godofredo Pepey and Rony Jason and middleweights Cezar Mutante and Sergio Moraes – as well as the co-main event fighters, heavyweight standouts Fabricio Werdum and Mike Russow.
Here's what they had to say:
Pepey
"It wasn't easy making it here. God is my manager and I thank everyone who's supported me. Jason is an excellent athlete and deserves all the applause he got from the public. It will be a war and I will be prepared."
Rony Jason
"This is a great dream come true, and there's no better place for this than [Belo Horizonte]. Two guys from "Ceara" fighting the big finale in Minas. I will take the heat from this mat into the Octagon. I've always worked hard and believed in my dream of fighting in the UFC. A samurai doesn't go into battle without his sword, so I'm wearing my (Jason) mask."
Cezar Mutante
"I am glad I get to fight at home, I want to thank everyone for their warmth. On Saturday, it's not just Mutante fighting, it's Belo Horizonte in the Octagon. I will make my UFC debut official and will be yet another Minas representative in the Octagon."
Sergio Moraes
"For some, the sky is the limit; to me, it's just the beginning. I only have reasons to be thankful. These are two great accomplishments, fighting in the UFC and in Brazil. I will take this energy into the Octagon, you can be sure."
Fabricio Werdum
"This is my first time in [Belo Horizonte], congratulations to this crowd here. I want to see everyone on Saturday shouting "Go Horse". Both Russow and I come from wins, I fought a great battle against Roy Nelson, I expect to have the same performance here in Brazil. I've prepared to fight both standing up and on the ground, I'd like to knock him out as fast as I can and not leave it up to the judges."
Mike Russow
"It was a pretty cool experience doing the workout outside. At least there are some cheers, I thought there were going to be a lot more boos! I think it's going to be a hard fight right through the third round. Come fight time, I close my eyes, I focus and I go for it."
Rich Franklin
"It's a great opportunity being here in Brazil, we're here to put on a great show. Most of the time, when you buy one of my fights, it's an exciting fight to watch. My first fight with Wanderlei was very exciting, and I don't see this as being anything short of that. This is going to be a very fun fight."
Wanderlei Silva
"I wish to thank everyone for all their warmth, you have no idea how important this is to me. I am willing, motivated and very well-trained for this fight. It wears you out, but getting this energy from the public gives me the drive for a great fight. I am very happy to be here."