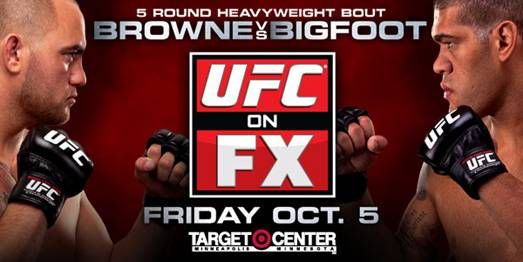 A five-round heavyweight showdown between contenders Travis "Hapa" Browne and Antonio "Bigfoot" Silva will headline an exciting UFC card scheduled for Friday, Oct. 5 at the Target Center in Minneapolis, Minn. The event will mark UFC's first in Minneapolis since 2008, when UFC 87 broke the Target Center live gate record with a $2.25 million mark.
Additional fights include: The Ultimate Fighter season 14 winner John Dodson vs. highly touted flyweight Jussier Formiga; Matt Mitrione vs. Rob Broughton in heavyweight action; Josh Neer vs. Justin Edwards in a welterweight contest.
The main card will also air live on FX at 9 p.m. ET/6 p.m. PT.
Unbeaten at 4-0-1 in his UFC career, the 30-year-old Browne has made an immediate impact in the heavyweight division thanks to his versatile and dangerous attack. Training alongside UFC light heavyweight champion Jon Jones and under the guidance of renowned coach Greg Jackson in Albuquerque, N.M., the Hawaii native will face the sternest test of his career in Silva.
Owner of wins over the likes of former UFC champions Andrei Arlovski and Ricco Rodriguez, as well as former PRIDE star Fedor Emelianenko, the 32-year-old "Bigfoot" has 11 wins by knockout and three by submission. He'll look to place himself in the title picture on Oct. 5 when he meets the hard-hitting Hawaiian.
"Travis Browne is undefeated in his career and wants to prove that he's ready for a shot at the title," UFC President Dana White said. "He's got a tough test in front of him in 'Bigfoot' Silva, who's beaten two former UFC champions and also finished Fedor. I'm excited to finally get back to Minneapolis and I'm confident this card is going to deliver for the fans at the Target Center!"