MTX MMA FIGHTER, STEVE STEINBEISS, JOINS WEC!
For Immediate Release
9-03-08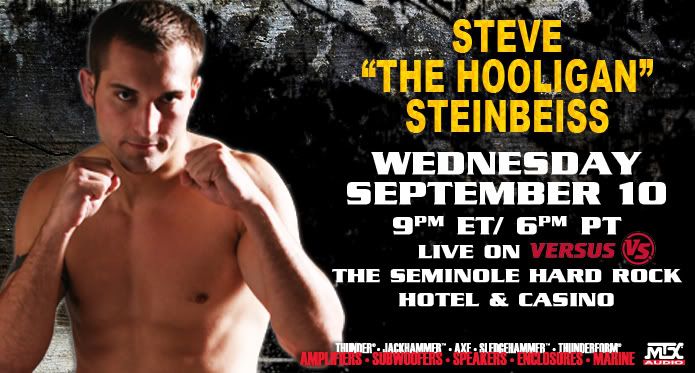 (Phoenix, AZ) - MTX Audio, the leader in high performance mobile audio products, announces that MTX MMA Fight Team member, Steve "The Hooligan" Steinbeiss, has recently been signed on by World Extreme Cagefighting (WEC) in the light heavyweight (205lb.) class. Steve Steinbeiss, known as the "Hooligan", is a native of England and is known for his kickboxing talents. Steve, along with his brother and fellow MTX M.M.A. fighter, Ray "Ipswich Cobra" Steinbeiss, train in Tempe, Arizona at Arizona Combat Sports. Since Steve's introduction to MMA, he has fought in organizations such as K-1, Bodog, WCL, and captured his third win at the first annual MTX Fight Night in Las Vegas, NV where he defeated Wayne Andrews by submission. Steinbeiss has a professional
MMA record of 4 wins and 1 loss, by decision and is undefeated in his kickboxing career.
His first fight is scheduled for September 10th in the Seminole Hard Rock
Hotel & Casino in Hollywood, FL. "I am honored to be fighting for the WEC
and look forward to showing the world what us Steinbeiss brothers bring to the world of MMA," stated Steve Steinbeiss. "I want to thank Loyd Ivey and the entire MTX family for all of their support which has helped me tremendously."
Joining Steve Steinbeiss on this fight card are names such as Urijah Faber, Paulo Filho, Chael Sonnen, Jens Pulver and Rob McCullough. MTX fighters are both up and comers, title contenders, and titleholders in various MMA organizations.
Visit
http://www.mtxmma.com
for up-to-date information regarding the MTX MMA team and to read MTX fighter blogs. Also, visit Steve Steinbiess and MTX MMA at MySpace:
http://www.myspace.com/stevesteinbeiss
or
http://www.myspace.com/mtxmma
.