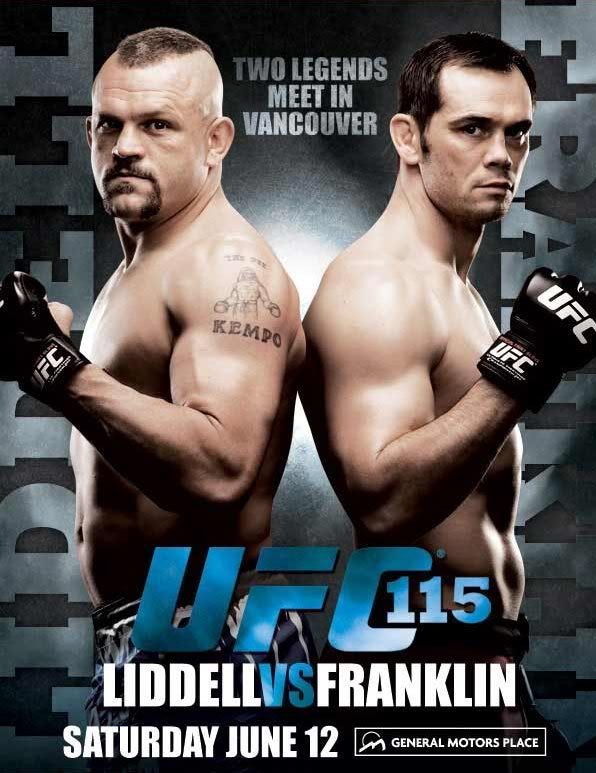 UFC 115 "Liddell vs. Franklin"
General Motors Place
Vancouver, British Columbia


**Join us for our round-by-round updates and LIVE Official Results beginning at approximately 7:30 PM EST for the Preliminary Card and 10:00 PM EST for the PPV Main Card**
Main Card:
Chuck Liddell vs.
Rich Franklin
via KO (Strikes) Round 1 (4:55)
- Great stand-up battle with both fighters landing powerful punches and kicks. Liddell gets a takedown but is bleeding badly from above his left eye. They stand back up and exchange more big shots and Franklin lands a big right that knocks Liddell out cold.
- Franklin tells Rogan that his left forearm is broken and you can see it on the replay.
Mirko "Cro Cop" Filipovic
vs. Pat Barry via Submission (RNC) Round 3 (4:30)
- Barry drops CC twice with rights and CC's face is swelling up like something is broke. They spend the rest of round exchanging and showing good sportsmanship.
- CC looks much better this round with his striking and he takes down Barry and controls the round with GNP and submission attempts.
- CC pounds the tired Barry throughout the last frame and puts him down and eventually sinks in the RNC for the victory!
- CC takes the mic from Rogan and thanks the Croatians in attendance in Vancouver and tells Dana White to give him a bonus jokingly!
Paulo Thiago vs.
Martin Kampmann
via Decision - Unanimous (30-27 all cards)
- Kampmann winning the stand-up battle and then Thiago gets a takedown. Kampmann tries for guillotine as the round ends.
- The second has more of the same as Kampmann shows his technical ability in striking and Thiago keeps looking for the one punch KO. Thiago tired for another takedown but Kampmann ended up on Thiago's back. Thiago did sweep eventually but Kampmann escaped and the round ended.
- Kampmann starts the last frame with some striking and another takedown. kampmann shows great ground control and is way ahead on points. The fight ends with Kampmann securing and arm-triangle choke and the bell ends.
Ben Rothwell
vs. Gilbert Yvel via Decision - Unanimous (30-27,29-28,29-28)
- Rothwell with a bullrush to start the fight. Rothwell got a few takedowns and controlled most of the first round with GNP and positioning. In the last minute though Yvel escaped and landed some great shots that wobbled Rothwell.
- Rothwell gets a takedown to start the second round and it looks like round 1 replayed. Yvel eventually gets a reversal and hammers Rothwell with GNP. Both fighters look tired and Rothwell gets back up and takes Yvel down again and ends the round in full mount.
- Yvel shoots to begin the last frame and is folded over with Rothwell on top. Deja Vu anyone? GNP from Rothwell including elbows from the crucifix position and both guys look like they are ready to fall asleep. The fight ends ends and it should be 2-1 for Rothwell.
Carlos Condit
vs. Rory MacDonald via TKO (Strikes) Round 3 (4:53)
- Impressive first round for the 20 yr. old kid MacDonald, he pushed the pace and had 3 takedowns.
- More great action and MacDonald wins another round. Takedowns were even at 1 but Macdonald had a sweep and ended the round with a front kick that put Condit on the mat.
- Condit comes out in third and weathers MacDonald's aggression, gets a takedown and lands several elbows that cut Macdonald. MacDonald gets up but Condit puts him back down and batters the kid with more elbows. MacDonald's face is busted and the ref stops the fight with 9 seconds left. The crowd chants Bullshit!
Spike TV Preliminary Card:
Tyson Griffin vs.
Evan Dunham
via Decision - Split (30-27,28-29,29-28)
- Griffin is down 2 rounds to none heading into the third. Dunham dominated the last frame just as he did in the first 2 with ground control and submission attempts.
Mac Danzig vs.
Matt Wiman
via Submission (Guillotine Choke) Round 1 (1:45)
- Danzig was in the choke, Wyman told the ref Danzig was out, the ref stopped it and Danzig was robbed because he was fine.
Preliminary Card:
David Loiseau vs.
Mario Miranda
via TKO (Strikes) Round 2 (4:07)
James Wilks
vs. Peter Sobotta via Decision - Unanimous (30-27,30-28,30-27)
Ricardo Funch vs.
Claude Patrick
via Submission (Guillotine Choke) Round 2 (1:48)
Mike Pyle
vs. Jesse Lennox via Submission (Triangle Choke) Round 3 (4:44)
**Check below for PDG UFC 115 Articles**
_________________
What do you expect? The comedian is dead.