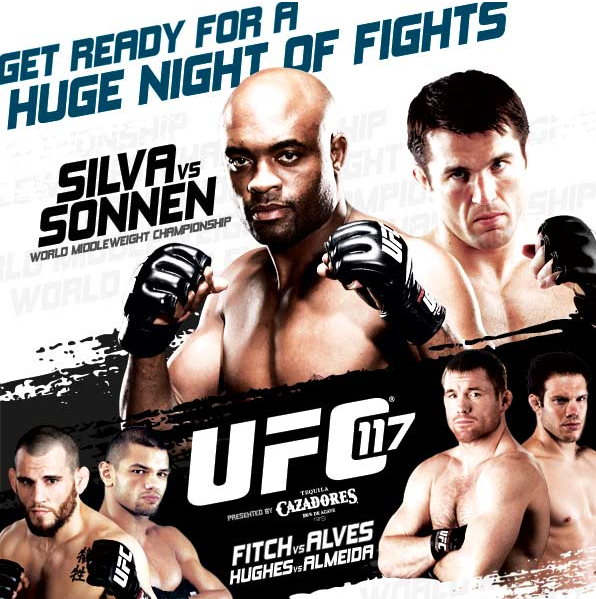 UFC 117 - Silva vs. Sonnen
August 7, 2010
Oracle Arena
Oakland, California


*Join PDG for our round-by-round updates and LIVE Results beginning at 7:20 PM EST for the Undercard and 10:00 PM EST for the Main Card. At the conclusion of tonight's event, be sure to watch the UFC 117 Post Fight Press Conference HERE*
UFC 117 Fight Card
Main Card:
UFC Middleweight Championship:
Anderson Silva
vs. Chael Sonnen via Submission (Triangle Choke) Round 5 (3:10)
- Sonnen drops the Champ with a straight left & slip by Silva to start the fourth and he is in familiar position again on the ground on top of Silva. More GNP from Sonnen but he makes one mistake and Silva sinks in the triangle choke. Controversy erupts but Sonnen definitely tapped!
- Silva again comes flying out of his corner, landing kicks and punishing strikes briefly hurting Sonnen and he gets a takedown, Sonnen reversed and starts his GNP once more. An elbow by Silva from the bottom has opened a gash on Sonnen's head but the fourth frame ends like the first three. Sonnen 4-0.
- Silva starts round 3 with a spinning back kick, Sonnen gets another takedown....see below...same dominance by Sonnen. 3-0 Sonnen.
- Silva come out striking in round 2 but Sonnen gets another takedown and GNP ensues again for the majority of the round. Silva did get some elbows in and almost secured a kimura at the end of the round. 2-0 Sonnen.
- Sonnen definitely brought his game tonight, landing multiple strikes that backed Silva up and they both had takedowns but Sonnen got his second and Silva couldn't get back up till the bell sounded. Sonnen landed GNP and clearly won the first round.
- Steven Seagal is walking to the cage with Anderson Silva.
Jon Fitch
vs. Thiago Alves via Decision - (30-27 all judges)
- Alves was much better with his striking and cage control to start round 3 but Fitch eventually got the takedown again. Fitch got a body triangle and pounded on Alves, eventually getting an arm triangle but Alves reversed. Time ran out with both fighters back on their feet.
- Fitch got an early takedown in the second frame and controlled the next four minutes on the ground. Alves escaped in the last minute and there was brief exchange of strikes, 2-0 Fitch so far.
- Here are the only stats you need for round 1 - Fitch: 3 takedowns, Alves: 1 reversal, 1 sprawl.
Clay Guida
vs. Rafael Dos Anjos via Submission (Verbal) - Round 3 (1:51)
- Guida secured another takedown and was landing some decent GNP until Dos Anjos verbally submitted with what looked like a broken jaw.
- Both fighters were very aggressive again in the second round and Dos Anjos again was getting the better of it until Guida got his first takedown. Guida is bleeding from somewhere inside that mop on his head. The round ended with Guida in Dos Anjos' guard.
- The first round was a stand-up battle and surprisingly it was Dos Anjos with 3 takedown attempts in that frame and he also won the striking in that round.
Matt Hughes
vs. Ricardo Almeida via Submission (modified triangle choke/neck crank) Round 1 (3:15)
- Both fighters were throwing strikes and trying to establish position and Hughes floored Almeida with a left hook, then Hughes jumped in and sinked in a modified triangle choke/neck crank for the finish.
Roy Nelson vs.
Junior Dos Santos
via Decision - (30-26,30-27,30-27)
- The third round was more of the same but Nelson was very gassed and to be honest, neither of these fighters are ready for the winner of Lesnar/Cain.
- Round 2 was a stand-up battle and both fighters are looking a little tired. Pretty even round but Cigano landed more strikes.
- Dos Santos controlled round 1 with precision striking (let me rephrase that, he landed bombs on Nelson) but he couldn't stop Big Country and Nelson even landed a few rights of his own.
Undercard:
Dustin Hazelett vs.
Rick Story
via TKO (Strikes) Round 2 (1:15)
- Hazelett really wanted this fight on the ground but Story dominated the striking and the ground when Hazelett got the fight there. In the second round, Story used his striking and takedown defense to put an early end to Hazelett's night.
Phil Davis
vs. Rodney Wallace via Decision - Unanimous (30-26,30-27,30-27)
- Davis used his superior wrestling, GNP and great ground control to overwhelm Wallace during all three rounds to win his seventh MMA fight convincingly.
Johny Hendricks
vs. Charlie Brenneman via TKO (Strikes) Round 2 (0:40)
- The former Pros vs. Joes winner, Brenneman started the fight slow getting caught in a guillotine choke by Hendricks but he was able to escape and wins round one with his striking and a late trip takedown. Hendricks comes out in the second frame and gets two early knockdowns and the fight is over.
Tim Boestch
vs. Todd Brown via Decision - Unanimous (29-28 all judges)
- The first two rounds of this fight saw almost nothing but stand-up with each fighter taking one frame. In the third round Boestch took control of the fight with 2 takedowns and a couple of submission attempts.
Stefan Struve
vs. Christian Morecraft via TKO (Strikes) Round 2 (0:22)
- Morecraft started the fight fast and used a takedown and GNP to take the first round but Struve came out in round two and dropped Morecraft with a straight right that put him on the canvas.
Ben Saunders vs.
Dennis Hallman
via Decision - Unanimous (29-28,30-27,29-28)
- Hallman controlled the first two rounds with takedowns and GNP, the third round was much closer as Saunders striking came to life but it wasn't enough to take it in the judges eyes.
*Check below for UFC 117 related articles**Thanks to our friends at Knock Out MMA Representation for reporting on the undercard results from Oakland*