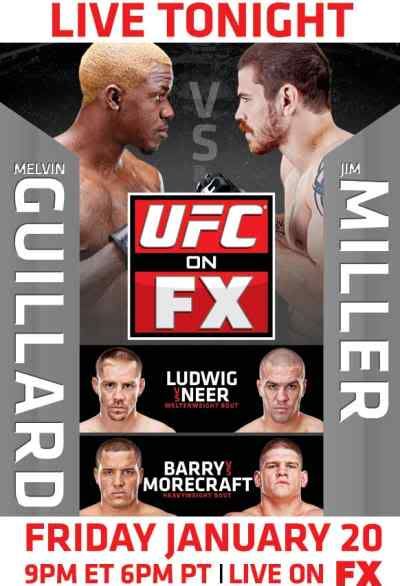 UFC on FX 1: Guillard vs. Miller
January 20, 2012
Bridgestone Arena
Nashville, Tennessee


The UFC hits FX on Friday night, with a lightweight main event battle between Melvin Guillard and Jim Miller - plus, Duane "Bang" Ludwig takes on Josh Neer and heavyweights Pat Barry and Christian Morecraft collide!


*Join PDG for our fight-by-fight discussion and Live Results beginning at 6:00 PM EST for the Preliminary Card and 9:00 PM EST for the Main Card.*
UFC on FX 1 Fight Card
Main Card (FX):
Melvin Guillard vs.
Jim Miller
via Submission (RNC) Round 1 (2:04)
Duane "Bang" Ludwig vs.
Josh Neer
via Submission (Guillotine Choke) Round 1 (3:04)
Mike Easton
vs. Jared Papazian via Decision - Majority (29-28, 30-27, 29-29)
Pat Barry
vs. Christian Morecraft via KO (Strikes) Round 1 (3:38)
Preliminary Card (Fuel TV):
Jorge Rivera
vs. Eric Schafer via TKO (Strikes) Round 2 (1:31)
Kamal Shalorus vs.
Habib Nurmagomedov
via Submission (Neckcrank-RNC) Round 3 (2:08)
PDG's Match-Up of the Night
Charlie Brenneman
vs. Daniel Roberts via Decision - Unanimous (30-27, 30-27, 29-28)
Fabricio Camoes
vs. Tom Hayden via Submission (RNC) Round 1 (4:03)
Daniel Pineda
vs. Pat Schilling via Submission (RNC) Round 1 (1:37)
Joseph Sandoval vs.
Nick Denis
via KO (Elbows) Round 1 (0:22)
*Check below for UFC on FX 1 related articles, videos and more.*
_________________
What do you expect? The comedian is dead.