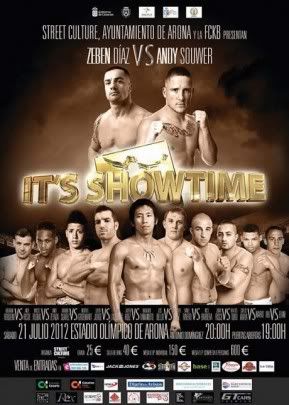 It's Showtime 59 - Live Results & Event Coverage
July 21, 2012
Tenerife, Spain**Join PDG for our Live Results and Event Coverage beginning at 4:45 PM EST.**
70 Kg:
Andy Ristie
def. David Calvo via KO (Knee to the body) Round 1
95 Kg:
Moises Ruibal
def. Amir Zeyada via Decision
- Ruibal couldn't answer the bell for the Extra Round so they announced Zeyada as the winner and then later called Ruibal back into the ring and announced he actually won by decision.... Bizarre!
Heavy Weight:**
Sergii Lashchenko
def. Damian Garcia via KO (Punches) Round 1
77 Kg:
Murthel Groenhart
def. Maximo Suarez via TKO (Doctor's Stoppage, cut)
- Kickass fight until the stoppage, Suarez had a wicked cut on his left eye.
It's Showtime World Title -61 Kg:
Masahiro Yamamoto
def. Javier Hernandez via Decision - Majority (4-1)
- Yamamoto takes Hernandez's belt after really turning it on in the last two rounds leaving the former champion bloody and battered.
70 Kg:
Andy Souwer
def. Zeben Díaz via Decision Majority (2-1)
- Diaz had gashes opened on both eyelids and still nearly came away with the win but Souwer looked great in rounds 2 and 3 to get the victory.
**
Loren Javier Jorge had to withdraw due to injury.
_________________
What do you expect? The comedian is dead.