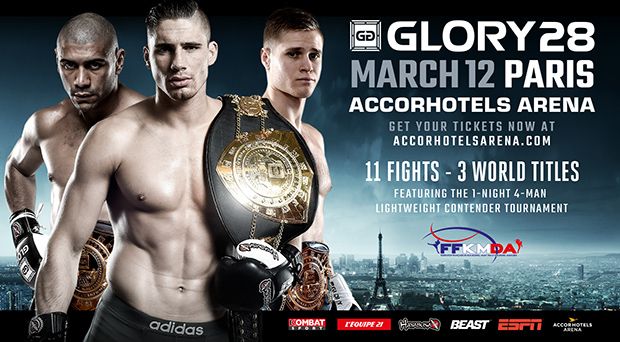 GLORY 28 Paris Set for March 12 with 3 Title Fights
GLORY, the world's premier kickboxing league, today announced three title fights for the organization's first visit to The City of Light, as Accorhotels Arena hosts GLORY 28 Paris and GLORY SuperFight Series Paris on Saturday, March 12.
Riding a nine-fight winning streak under the GLORY banner, dominant GLORY Heavyweight World Champion Rico "The Prince of Kickboxing" Verhoeven (47-10, 12 KO) defends his belt for the fourth time in the headline bout of GLORY 28 Paris, taking on veteran No. 3 contender Mladen "The Scorpion Sting" Brestovac (49-10-1, 32 KO) of Croatia.
Having won six of seven total fights in the GLORY ring, red hot Brazilian champion Saulo "Cassius Clay" Cavalari (32-2, 19 KO) puts his GLORY Light Heavyweight World Title on the line, headlining GLORY SuperFight Series Paris. His opponent, 24-year-old Russian Artem Vakhitov (15-5, 6 KO), has only suffered defeat once in GLORY, dropping a decision to Cavalari in their first meeting at GLORY 20 in Dubai. No. 1 contender Gokhan Saki was targeted for this match-up, but was forced from the card due to injury.
Also part of GLORY SuperFight Series Paris, newly crowned champion Serhiy Adamchuk(31-5, 14 KO) of Ukraine, undefeated in the organization, with three wins, battles No.1 contender, Moroccan-Dutch Mosab "Jaguar" Amrani (55-10-4, 18 KO) for the GLORY Featherweight World Championship.
Adamchuk captured gold at GLORY 25 Milan, defeating Gabriel Varga in a five-round affair. Amrani carved his way through the one-night, four-man Featherweight Contender Tournament at GLORY 26 Amsterdam in December, knocking out both ChiBin Lim and Maykol Yurk en route to victory.
"The power position in three different divisions will be up for grabs on March 12," said GLORY CEO Jon Franklin. "We're looking at a historic night of fights, not only for the fans in Paris, but for GLORY and its athletes as a whole."
Also scheduled for the evening:
Feared Dutch-Surinamese striker Murthel "The Predator" Groenhart (58-19-3, 33 KO) takes on fellow welterweight Cédric Doumbé (55-4-1, 35 KO) of France in the co-headline bout of GLORY 28 Paris.
GLORY's one-night, four-man Lightweight Contender Tournament featuring No.1 ranked muay thai sensation Sittichai (106-29-5, 29 KO) kicks off GLORY 28 Paris.
French talents Freddy "Crazy Horse" Kemayo (65-22-1, 45 KO) and Eddy Nait Slimani (59-1, 17 KO) make their GLORY debuts in the GLORY SuperFight Series Paris.
Additional match-ups for GLORY 28 Paris, which will be carried on ESPN networks, and GLORY SuperFight Series Paris will be announced at a later date.
_________________
What do you expect? The comedian is dead.