4.5 Hours of awesome CSW training! Over 90 Chapters on 3 discs! $99.95
Pick Up Your Copy Today!
Click Here
to visit our online store.
Join Erik Paulson and his guest instructors for a training experience to be remembered. Students and fighters attended the CSW 2008 training camp in April 2008 at the CSW Training Center in Fullerton, CA. This camp was documented for the public to see and you don't want to miss this!
Guest instructors include:
Greg Nelson, Marvin Cook, Olivier Gruner, Danny Suarez.
This is some of the best Mixed Martial Arts training available, period!
Be sure to check the public and members areas of erikpaulson.com for even more content from this week of training. Extra interviews, techniques, sparring, and rolling are just some of the things that didn't make the dvd, but we're going to show them to you on the Erik Paulson site!
Pick up these DVDs today. They are a STEAL at this price!
Be sure to check
http://www.erikpaulson.com
for clips and free previews from this awesome DVD set!
Contents:
DVD 1: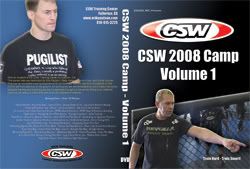 Introduction
Hand Fighting
Shooting Reps
Lateral Drill
Sweep Single Drill
Leg Catch Shadow Boxing
Training Protocol
Jab - Shoot
Jab Cross Shoot
Jab Cross Hook Shoot
Jab Low Cross Hook Overhand Shoot
MMA Guard Positions
MMA Guard Positions Standing
Tight Guard
Triangle & Uma Plata Setups
Triangle Counters
Grip Training
Head Push - Guard to Quarter Position
Kick Off From The Guard
Head Snap to Quarter Position
Under Hook to Quarter Position
Submissions vs. 1/2 Butterfly Guard
Entry Timing Drill
Kick Pick Warm Up
Punching The Kicker
Chopping Down The Tree
Defending Against The Punch From Your Back
Warm Up: Teep Bounce
Warm Up: Round Kick Bounce
Sumo The Bag
Curve Knee The Bag
Curve - Straight The Bag
Straight Knees
Bouncing Teep Drill
Round Kick Bounce
Defensive Slap Drill
Clinch Punching
Knee The Baby
Solo Clinch Pad Hitting
Timing The Shot
Leg Check Warm Up
Midline Kick Check
High Kick Check
Kick Defense High Med Low
DVD 2: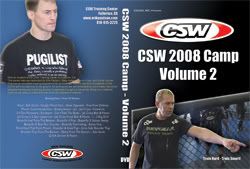 Hard - Soft Catch
Straight Punch Kick - Same Opposite
Free Flow Defense
Marvin Cook Introduction
Boxing Stance
Jab
Jab Cross
Footwork
1/4 Turn Footwork
Southpaw
Can't Fake The Shake
Jab Cross Bob & Weave
Jab Cross x 2, Spin, Uppercuts
Jab Cross Hook Bob & Weave
1 - 2 Bag Drill
Butterfly Half From The Bottom
Butterfly X Pass
Butterfly X Scissor Sweep
Butterfly X Bear Run Counter
Butterfly Pummelling
Bunny Hop
Pelvis Hand Trap From Mount
Shoulder & Knee Trap
Same Side Shoulder Trap
Shoulder Trap From The Bottom
Elbow From The Bottom
Side Stock
Q & A Ground & Pound
DVD 3: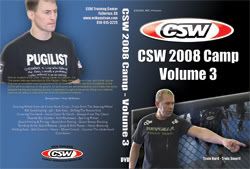 Steering Wheel from Jab Cross Hook Cross
Tricks From The Steering Wheel
Rib Conditioning
Jab - Side Kick
Drilling The Round Kick
Covering The Hook
Inside Cover To Clinch
Sweeps From The Clinch
Outside Slip Combo
Kick Placement
Sparring Primer
Guard Hitting & Pinning
Guard Arm Pinning
Guard Sweep Blocking
Teardrop Strike Guard Release
Jump & Slide Passes
Heavy Bouncing
Holding Kesa - Side Control
Heavy - Elbow Crunch
Counter The Underhook
Conclusion
Order Here