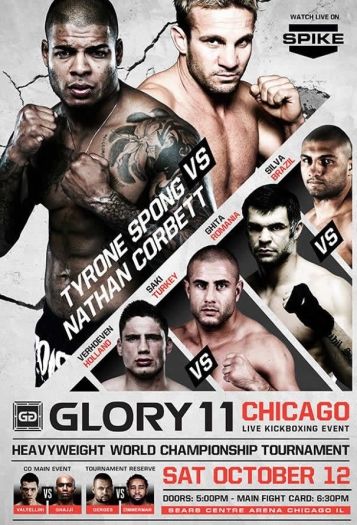 GLORY 11 Chicago - Heavyweight World Championship Tournament - Live Results and Event Coverage
October 12, 2013
Sears Centre Arena
Hoffman Estates, Illinois



**Welcome to PunchDrunkGamer for our Live Results and Event Coverage of GLORY 11 Chicago, the Preliminary Card has ended! The Main Card will air live on Spike TV in the US or you can order the Pay-Per-View on Glory's Official Website at 9:00 PM EST.**
GLORY 11 Chicago - Fight Card:

Main Card (Spike TV or PPV):

Heavyweight Tournament Finals:

Rico Verhoeven
def. Daniel Ghita via Decision - Unanimous
- Kickass fight for all three rounds, I had Verhoeven winning the decision but I wouldn't have been shocked if the judges gave the decision to Ghita. Rico Verhoeven wins the GLORY 11 Chicago Heavyweight World Championship Tournament and a check for $250,000.00
Light Heavyweight Grudge Bout:

Tyrone Spong
def. Nathan Corbett via TKO (Left Hook) Round 2 (1:10)
- There was little doubt this time as to who was the better fighter as Spong had his way with Corbett in round 1 and then he poured it on in the second collecting two knockdowns via the left hook before the ref stopped the fight.
Welterweight Feature Bout:

Joseph Valtellini
def. Karim Ghajji via TKO (Referee Stoppage) Round 3 (2:53)
- Bazooka Joe used and abused Ghajii until the ref finally stepped in following a spinning back fist standing eight-count and another flurry of strikes that staggered Ghajji.
Heavyweight Tournament Reserve Bout:

Errol Zimmerman
def. Hesdy Gerges via TKO (3 Total Knockdowns) Round 3 (0:38)
- So if Verhoeven or Ghita are unable to fight in the finals tonight, Zimmerman will take their place. Zimmerman looked on top of his game for sure, leaner, meaner and in great shape.
Heavyweight Tournament Bout #2:

Daniel Ghita
def. Anderson Silva via TKO (Right Hook) Round 1 (1:56)
- Not much to say. A glancing blow by Ghita nearly KO'ed Silva.
Heavyweight Tournament Bout #1:

Rico Verhoeven
def. Gokhan Saki via Decision - Majority (29-27, 29-28, 28-28)
- Referee scored a slip by Saki in round 1 as a knockdown and it basically cost Saki the fight, in my opinion, but according to the judges it may not have mattered. Great performance by Rico.
GLORY Superfight Series (Non-Televised - Available on Glory's Website in 2 Weeks):
Sergei Kharitonov
def. Daniel Sam via Decision - Unanimous
Danyo Ilunga
def. Michael Duut via TKO (Referee Stoppage) Round 1
Raymond Daniels
def. Brian Foster via TKO (Strikes) Round 1
Saulo Cavalari
def. Filip Verlinden via Decision - Unanimous
Steve Moxon
def. Reece McAllister via KO (Punch) Round 3
Gabriel Varga
def. Jose Palacios via Decision - Unanimous
Preliminary Card (Non-Televised):
Troy Sheridan
def. Michael Mananquil via Decision
Maurice Greene
def. Yang Rae Yoo via Decision - Unanimous
Aaron Swenson
def. Billy Rose via KO (Spinning Back Kick) Round 2
Kyle Weickhardt
def. Quartus Stitt via Decision - Unanimous
Ian Alexander
def. Austin Lewis via Decision - Split
Axel Mendez
def. Jordan Weiland via Decision - Unanimous
**Check below for GLORY 11 Chicago Extended Event Coverage.**
_________________
What do you expect? The comedian is dead.